This site is hosted by Susan Ondine for those who enjoy the sight and sounds and feelings of women in their unique feminine battles. Because I have enjoyed reading, writing about and viewing catfights between women on video, film and watching real or simulated action over many years.

I am much more than an ordinary fan. I now dress as a woman to take part in catfights myself in full street clothes, high heels and all before the clothing suffers the inevitable damage to revesal the glamorous undies which add so much to the spectacle.

I am 5'6" and weigh 140 pounds and like nothing better than the traditional slapping, hairpulling, roll-around catfights as typified in the early Stanton artwork and the videos of California Wildcats and Crystal Films. My feelings? See the Stanton artwork and poem to my rival.

SCROLL AND HIT ON BLACK CAT TO TO SEE MORE PHOTOGRAPHS.

UPDATED MARCH 2002
CLOTHES MAKETH THE CATFIGHT
It used to be said that clothes maketh the man. They can also make the man into a woman and a true catfighter. The blonde is me, Susan Ondine the catfight Queen getting ready for a roll-around brawl with the luscious Lola who has youth on her side in her first transvestite catfight (top right).
I learnt my own techniques from watching women going at it in the movies and the occasional real fight, before graduating into fights of my own with the help of a Sydney, Australian professional woman in her studio (see at left and centre). At special sessions I watch and video real women in catfights and often challenge the woman or another cross-dresser. Now I know what our favourite girls go through in their feminine free-for-alls
Let me know what you think but don't be too unkind or you'll get your hair pulled!
NEWS OF YOUR FAVOURITE GIRLFIGHT
YOUR OWN CROSS-DRESS CATFIGHT LEANINGS
SWAPPING CATFIGHT STORIES AND TAPES
VISITING SYDNEY AND JOINING THE FUN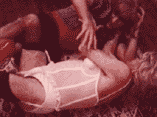 THIS SITE WAS CREATED FOR SUSAN ONDINE - THE CATFIGHT QUEEN. THIS SITE IS THE PROPERTY OF SUSAN AND MAY NOT BE REPRODUCED IN PART OR WHOLE UNLESS WRITTEN PERMISSION IS OBTAINED.